Safety Tools | Stress Free Roleplay of Stressed Out Characters | Wandering DMs S05 E31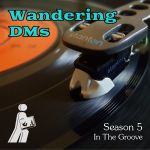 How do we play characters reacting naturally to highly stressful situations without completely stressing ourselves out? Paul and Dan discuss the variety of safety tools in use in modern roleplaying systems, and how those impacted the development of Paul's upcoming horror RPG Fearful Ends.
John Stavropoulos, creator of X-Card, said on why to use this safety tool:
"The X-card creates a specific mood at the table. It says "We're here together. If you need to stop, we'll stop. The people playing are more important than the game we are playing." … Just having the X-Card present can increase the group's heightened awareness of everyone's risks and responsibilities. Even if the X-Card is never used, it still is a potent tool for getting everyone to think about each other first, and the game second."
William J. White, a professor at Penn State Altoona, in a historical retrospect examined the early online discourse in The Forge diaspora on the X-Card including a discussion prompted by game designer Vincent Baker in 2013. White highlighted that Stavropoulos was an event organizer who developed the tool to help ensure a "positive experience in convention-based play" with strangers, however, many online commentators assumed "play takes place within stable, pre-existing groups" which is "an important distinction in understanding the issue". Some felt the X-Card "more or less obviously implies curtailing the range of normal activity at the table" and the tool was subject to ridicule while others "pointed to a legitimate need for safety mechanisms, challenging the critics on the jurisdictional grounds that they are misinterpreting the intent of the X-Card".
In 2013, Baker felt that X-card was an "unnecessary or harmful" game hack counter to the intentions of the game designer as "competent game designers" would be deliberate about including or excluding "emotional safety mechanisms". This position was challenged, including by Stavropoulos himself, and the ensuing online discussion outlined positive experiences using the X-Card. Baker has since "completely reversed" his position and stated "my take now is that stand-alone safety tools that players can bring with them from game to game are valuable and important".
This description uses material from the Wikipedia article "X-Card", which is released under the Creative Commons Attribution-Share-Alike License 3.0.