Our D&D House Con 2023 | Live Lessons | Wandering DMs S05 E11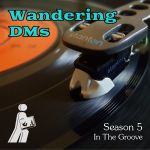 Dan & Paul recap our annual 25-person indie house convention we hold annually on the sparkling shores of Plymouth, MA. Check our review of hour our classic games went, new games we got to try for the first time, and more surprises. Also: how did the ongoing AD&D Slavers series wrap up In the Dungeon of the Slave Lords?
Wandering DMs Paul Siegel and Dan "Delta" Collins host thoughtful discussions on D&D and other TTRPGs every week. Comparing the pros and cons of every edition from the 1974 Original D&D little brown books to cutting-edge releases for 5E D&D today, we broadcast live on YouTube and Twitch so we can take viewer questions and comments on the topic of the day. Live every Sunday at 1 PM Eastern time.